Do you work for an art gallery? Are you looking for effective marketing strategies to promote your gallery and don't know where to start? Don't fear, another installment of ArtBinder's Gallery Guru is here to share our top tips to marketing your art gallery. Read on if you want to increase awareness for your business and bring in more sales.
Visuals
As an art gallery, you're fortunate to have a supply of visually appealing images. Why not take advantage of the most popular social media platform, which just so happens to be focused on visuals? Yep, we're talking Instagram. In today's increasingly visuals-focused world, some of the most successful galleries have employed the app to promote their artists and exhibitions. Don't forget the power of Live videos- they're sure to get your gallery noticed!
Content creation
As a society, we love to consume content and consume it quickly. There are so many different ways to create valuable content to drive attention to your gallery, but here are some goals to focus on. Sharpen up your writing skills and create articles for your gallery's blog. Learn the guidelines for different social media platforms to optimize content. Stay consistent, relevant, and insightful to keep your audience engaged.
Personalization
One on one connections are important. A successful way to market your gallery is through a personalized approach. There's plenty of technologies out there that can help your gallery provide more personal experiences for your clients. It's great to follow up on a fantastic conversation over a piece or with a new contact that you made in the gallery, at art fairs, or elsewhere! We created a feature here at ArtBinder, which allows you to send personalized emails that can include images and work details for a more targeted, high-touch communication. Be sure to leave a memorable, lasting impression!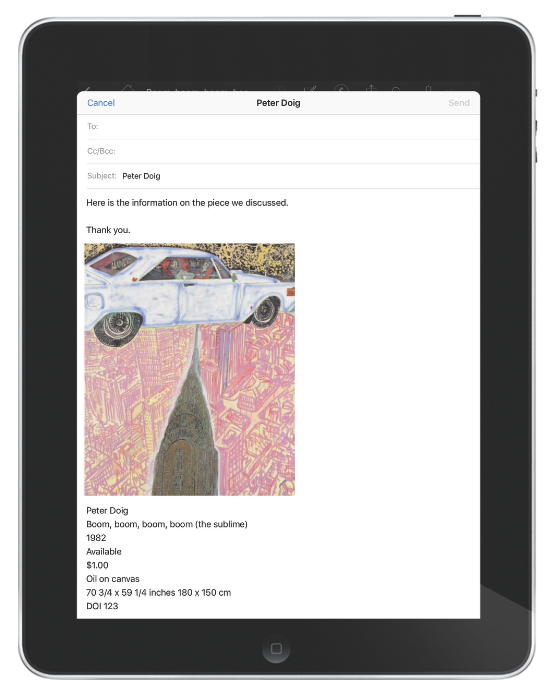 Optimize for mobile
Mobile optimization is becoming increasingly relevant for art galleries. With trends showing that more online searches are conducted on mobile phones rather than on desktops, we highly suggest take the time and effort to ensure that your gallery's website is optimized for Google search and viewing on mobile devices. Don't forget to incorporate all of your social media channels!
Newsletters
Email marketing is essential to spreading your gallery's message. Don't want your email to get lost in the spam folder? Drop the impersonal email blast and learn to write a newsletter that'll catch the art collector's eye. Want to learn more? Catch our detailed guide on how to create a killer newsletter for your gallery.
Most of all, don't lose sight of your gallery's mission and identity. The marketing techniques you utilize should ultimately reflect your gallery's individual personality. We hope these tips help you bring out the best of your gallery to potential new clients!
Are you a gallery looking for more ways to increase awareness? Do you want to learn in more depth about these topics? Don't hesitate to reach out to ArtBinder for more advice and support at help@artbinder.com.