Creating a gallery newsletter
If you are an artist or work in an art gallery, you know how important newsletters can be. According to the 2017 Hiscox Online Art Trade Report, online art market sales reached an estimated $3.75 billion in 2016, up 15% from 2015.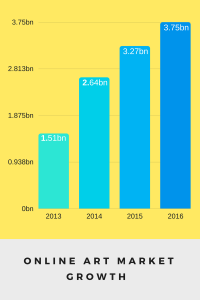 With this rise in the online art market, using online marketing strategies has become an essential method for art galleries to keep up with its clients. Newsletters are a great marketing tool that help you reach art lovers with information regarding your gallery's message, upcoming exhibits and news. 
We compiled a few tips to ensure that your newsletter is not only read but that it also avoids the spam folder!
NEWSLETTER GOALS
The most important part of this process is knowing your goals as a gallery. Are you sending out a newsletter in order to generate more clients? Get more email contacts? Send traffic to your website? Figure out what your main goal is before you decide anything else!
CONTENT CREATION
Once you know what your main goal is, you can start brainstorming what you want to communicate to your audience. It's important to choose a relevant and interesting topic to keep them engaged. Will they want to hear about exhibit openings? Are they interested in one of your new artists? Do they want to know about art fairs?
We also advise that you don't bombard them with too much information as you will lose your reader's interest after the first scroll. Instead, you should focus on one primary topic and keep the copy short and sweet to encourage clickthroughs!
PROOFREADING
After your copy is written, a crucial step in this process is proofreading! Make sure you proofread and proofread and proofread one more time. Once you send the newsletter, it is out there for everyone to read and you can't edit it. The point of your newsletter is to bolster your relationship with clients, building trust and community, and you wouldn't want your hard work to go to waste because of a grammatical error.
Also, it's okay to ask for advice from colleagues or other trusted sources! Another set of eyes on your work can bring a fresh perspective to your piece.
SUBJECT LINE
The subject line is the first interaction your readers have with your email and it can determine whether the newsletter is read, deleted or unsubscribed (no pressure!). In order to entice your readers to click, we recommend thinking of a subject line that catches their attention but is also less than 50 characters long.
You must also be careful with what you write. The best way to avoid ending up in the spam folder is by making sure you don't use words such as "Cash," "Quote," "Save" and "Free " when writing the subject line. Email spammers rely on these words to boost their open rates so email providers use special spam filters to keep out any emails containing those words!
TIMING
Once you have your goals set straight, your copy written and your subject line drafted it is time to send your newsletter!
Before you click "Send" you want to make sure you are doing it at a time when your readers will be on their computer and ready to read. You can test different times to see which gives you better results or if you are using an email marketing service, they will advise you when is best to send!
We wish you luck and success with this process and hope these tips help you get started if you are new to this industry or if you're looking for ways to revamp your newsletter.
Want to get some newsletter inspiration or keep up with ArtBinder? Sign up to our newsletter and subscribe!