Summertime sure feels like a time to be lazy and lethargic, a time to just blast the AC and park yourself somewhere to avoid the heat– but the #artworld keeps moving. Here at ArtBinder, we've compiled the most noteworthy headlines in the #artworld this week. If you want to get in the know,  all you have to do is scroll down… and remember to follow us on Twitter and Instagram for daily updates!
Do you still own your favorite stuffed animal from your childhood? Do you have a weird collection that no one knows about? Do you have a hard time throwing away keepsakes and memorabilia?
If you answered "yes", to any of these questions, you should go see "The Keepers", The New Museum's new summer show that asks why we hoard things.
If you answered "no" you should still go see the exhibit, and read about its curator, Massimiliano Goni, and his inspiration behind the show.
It's been almost 130 years since that fateful night when Vincent Van Gogh cut his ear off.
Last week, The Art Newspaper revealed the name and story of the woman who was "gifted" van Gogh's ear. Instant trauma.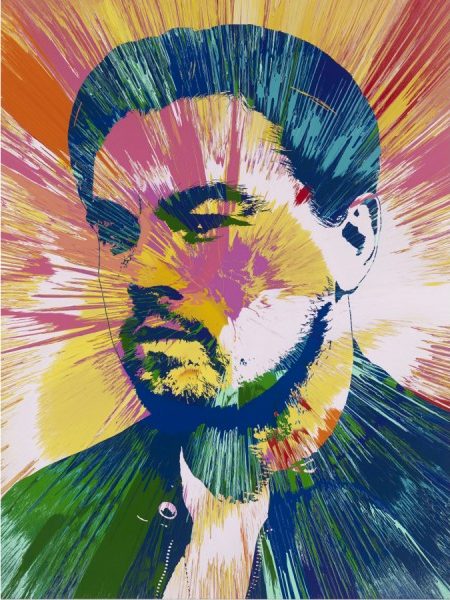 Talk about a party– last week, Leonardo di Caprio auctioned off Picassos, Turrells, and Hirsts at a high-profile auction in St. Tropez.
The star-studded event raised $45 mil for his Foundation.
Christie's is facing a steep drop in sales for the first half of the year, according to the figures it released last week.
But Christie's is staying positive: lower sales are being tied to lower supply of expensive lots and on the flip side, online sales are up!
When bad things happen to good paintings…
Last week, prosecutors moved to seize a few Monets and a van Gogh from Malaysian financier Jho Low, who supposedly purchased them with illicit funds. And he seemed such a promising collector…
Header image credit:
Damien Hirst, Beautiful Leonardo DiCaprio Looking Away Painting (2016). Courtesy of the Leonardo DiCaprio Foundation.